Slat spreader rollers
Patent no. MI94A 002549


Longitudinal wrinkles are quite common during treatment of fabric or plastic films: our slatted spreader roller is made to avoid this kind of inconvenience wherever a strong and evenly pull is needed, all over the surface and even under intense lateral tension.

The rotary movement of the cylinder produces, through a cam system, the shifting of the slats, which stretch out the fabric for its entire width.The slats slide upon POM-C (Acetal Polyoxymethylene) pads, material that guarantee high mechanical strength, excellent wear resistance, as well as low moisture absorption.
Our spreader rollers are available in both neutral (idle roller) or motorized movement, with fixing pins that can be customized according customer's needs.
Our rollers fully come without bearings! Indeed the cam system uses "ad hoc" small rolls made of carbon graphite filled PTFE which ensures low maintenance costs and makes them ideal for prolonged use even under tough condition.
CDI: Slatted roller totally made of 304/316 stainless steel, ideal to be used in wet or aggressive enviroment (up to 110°C).
Available with Ø120 from 1300mm to 2500mm usable lenght and with Ø150 from 1750mm to 3600mm usable lenght.
For very special application a version that can operate up to 190°C is also available, just replacing the POM pads with PTFE pads.

CDR: Slatted roller suitable for dry enviroments, with stainless steel body and rubber-covered aluminium slats, in order to increase adherence.
Available with Ø174 from 1300mm to 2600mm usable lenght.

Although the quality, the reliability, and the long operative life of our rollers is guaranteed, they are not eternal! Our company supply replacement kits for all wear and tear parts.
Spiral spreader rollers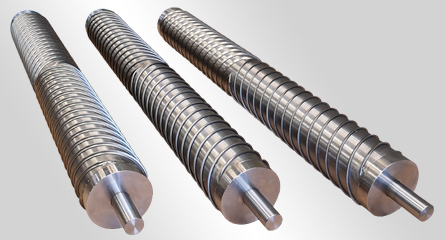 Our spiral expander are a robust, compact and versatile solution to avoid wrinkles during the treatment of web material surfaces.
In order to be long lasting also in aggressive enviroment such wet or steam they are totally made of 304/316 stainless steel and are almost maintenance-free. The number of starts, the pitch of the spiral and the geometry of the wire can be customized according customer's needs.
Available from Ø80 to Ø260, with max usable lenght up to 3600 mm

These features reflect our tradition of simplicity and reliability, and make our rollers suitable for a wide range of machineries and fabric: from the most traditional through the most delicate one to the nowaday synthetic fibers. Being compact and wieldy they can be easily mounted.
The heads of the roller (flanges and mounting pin) can be customized according client's needs as usual.